Mister Hippity old school gawker style.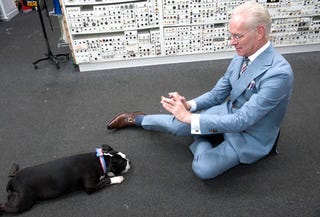 Need something cool to do during these dog days of summer? Why not fetch a seat by the TV and join us as we chat about tonight's episode of Project Runway? Sit! Stay! Good job!
The show starts on 9 Eastern on Lifetime, and the chat party happens in the comments below. Here are a few highlights from the one we held here last week:
I've collected a few of my favorite commenter quips from last week here. As for this week: Tonight's challenge will be to create a new look for the future inspired by an event from the designer's past. If I were competing, I'd use the time I accidentally ate cat food as inspiration for a look based on a future in which humans have evolved into giant cats. In fact, Heidi's already designed that look, now that I think about it.
See you cats in the comments!
[Image via Lifetime]