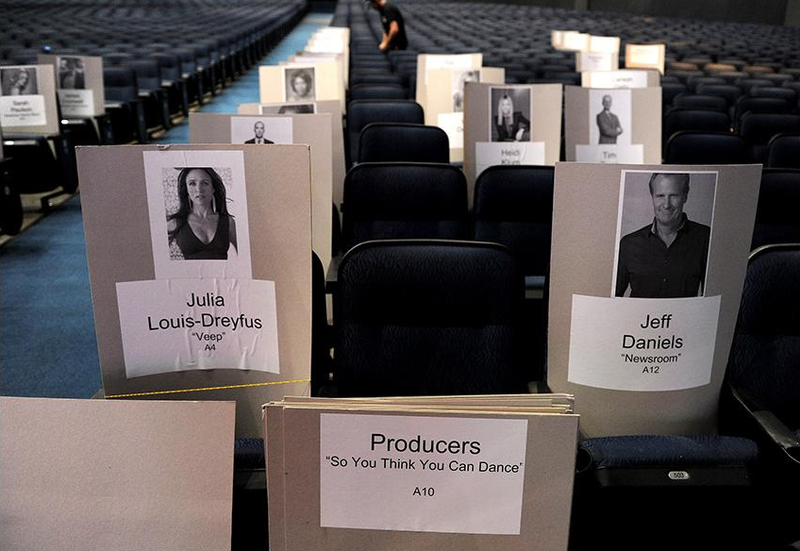 The Emmy voting process is extremely outdated, but you know what isn't? MTV's The Challenge.
No one looks at Emmy nominations and thinks "I am completely happy with all of these decisions." It's essentially the same thing when cast members of the latest season of The Challenge are announced. "Johnny Bananas again? Doesn't he have a job?" No, he does not have a job, but that doesn't stop him for being nominated and winning again.
It's high time the acting categories in the Emmys (and all awards shows, to be perfectly honest) be approached like The Challenge: as a head to head physical fight to the near death that factors in past wins, includes puzzles a fifth grader could solve, and ends up on the top of a volcano. Hosted by TJ Lavin.
Outstanding Lead Actor In A Comedy Series

Louis C.K., Louie — Louis ends up on The Challenge, despite his lack of physical prowess, because he's the life of the party. Unfortunately, he ends up losing the final challenge—which he's only able to reach because of aforementioned likability and because people are afraid to take him on in an elimination round—and ending up on a stretcher. It haunts him no matter where he goes.
Don Cheadle, House of Lies — The perfectly affable Challenge cast member, Don Cheadle finds himself constantly thrown into elimination round after elimination round for no other reason than he's not the best, he's not the worst, and everyone else in the house already has pre-established friendships and alliances. His only hope is to fly under-the-radar, but eventually, being thrown into elimination after elimination takes its toll. He's still not mad about it though.
Ricky Gervais, Derek — Nobody even knows why Ricky Gervais is here or has any recollection of his season of The Real World. None of it is made better by the fact that all he does is go on and on about how he's a master strategist who runs the house, even though no one likes him and he's literally telling everyone he can find how good he is at manipulating them. He makes it to episode two, and that's only because the rookie is eliminated first.
Matt LeBlanc, Episodes — Matt LeBlanc is so very clearly the ace Challenge cast member who who took a break a few years ago but now wants to show that he's back and better than ever. However, he doesn't understand immediately that the game has changed a bit since his time. He's constantly targeted by the new movers and shakers of the game because he doesn't sit down and accept the alliance-heavy status quo. None of this stops him from hooking up with a rookie girl or two, though. Or from drinking an hour before the final challenge and being automatically eliminated for it.
William H. Macy, Shameless — Macy is one of those Real World cast members from the early seasons (you know, like Real World: Roanoke) who assumes the show will be just like the good old days, where all you have to do in one challenge is tread water in a pool because the show's budget is a whopping 50 bucks. He unfortunately quits on either the first or the second episode, because the pressure is too much, and his insurance company and kid (in that order) need him more than he needs the game. Come the reunion show, one of the female cast members definitely lets it slip that they regrettably hooked up with him.
Jim Parsons, The Big Bang Theory — A dynasty that everyone could probably beat if they just banded together, no one thinks to go after Jim Parsons (or Jimmy Coconuts, as he's called in this scenario) until there's three episodes left in the season. He wins everything, and the entire cast is left wondering how on earth this could have happened again.
Outstanding Lead Actress In A Comedy Series

Lena Dunham, Girls — Dunham is The Challenge's competitor who seemingly never quite has her head in the game, but once her time comes, she politics and schemes with the best of them. She might not make it through the rigors of the elimination round once her time is up, but she'll be back next season. Oh yes, she will be back.
Edie Falco, Nurse Jackie — Edie is one of those veterans who you really start to wonder why she hasn't just moved on past these challenges, but then all of a sudden it becomes clear that it's because she can dominate all of the other women in the elimination round practically in her sleep. Her downfall is a cocky elimination around against Amy Poehler, of course.
Julia Louis-Dreyfus, Veep — The veteran woman who's the best and she knows it. In Challenge-speak, she's the type of female cast member who's the closest to being on the same level as a man, a fact Jimmy Coconuts constantly mentions in his talking heads. All of her Julia's competition fear her, but they try their best to get on her good side.
Melissa McCarthy, Mike & Molly — She gets along well with everyone in the house, but she has a target on her back from being from a terrible season of The Real World (worse than Gervais'). Not the most athletic, her personality still gets her to the final, where her heart gets her through all of it. Third place, but she still gets a cash prize and a year's worth of free movie tickets from Fandango for all of her struggles.
Amy Poehler, Parks & Recreation — The life of the party, Amy Poehler is everyone's go-to girl come party time at the house or a night out at the club. Nobody wants to vote her into the elimination round, but when they have to, emotions are at an all-time high. She kills it, TJ Lavin tells her she kills it, and then she has to do the final challenge, after coasting the entire season.
Taylor Schilling, Orange Is the New Black — As the rookie, Taylor is immediately fed to the Inferno or the Gulag or whatever we're calling the elimination round in this scenario. She tries her best to get rid of the veterans, but without an alliance, she's out in the first episode, thrown in against Edie Falco.
Winners, based on the facts: Jimmy Coconuts and Julia Louis-Dreyfus.
Outstanding Lead Actor In A Drama Series

Bryan Cranston, Breaking Bad — The beast of The Challenge, Cranston relies on nothing more than his ability to get shit done to constantly win the whole damn thing. There's no need for politicking, because nothing anyone can do could ever keep him from winning a challenge, an elimination round, or the final.
Jeff Daniels, The Newsroom — No one watching The Challenge considers Daniels a top competitor, yet somehow he's found a way to win it all in the past. He comes into the house with a target on his back, but not being a rookie, he's able to deflect it all for a while. He eventually just leaves early because he's over the whole thing, and come the reunion, everyone talks shit about him—especially TJ Lavin, who hating nothing more than a quitter.
Jon Hamm, Mad Men — The ideal winner of The Challenge, Hamm makes it all the way to the final, only to gas out halfway through, and end up in third place. In this reality where The Challenge makes Emmy decisions, this has happened on more than on occasion, even though Hamm spends the off-season training specifically for The Challenge. It consumes his life. Jennifer Westfeldt has no idea how to get through to him anymore.
Woody Harrelson and Matthew McConaughey, True Detective — They're just here for the free vacation, and no one faults them for it. Until they end up in the final, that is.
Kevin Spacey, House of Cards — The flamboyant cast member who gets into drunken fights with everyone at night and then loves everyone like nothing ever happened the next morning. Spacey's a liability to the game, so he's begrudgingly sent into an elimination round against Jeff Daniels, only to beat the shit out of him and shock everyone. Still, he gets fourth place, which means he showed up for no reason other than to show up on the reunion and insult everyone, especially reunion host Johnny Moseley.
Outstanding Lead Actress In A Drama Series

Lizzy Caplan, Masters of Sex — The rookie in this season, Caplan is an immediate target, but she can more than hold her own in the elimination round. In fact, the only time she loses loses challenges, it's literally just by a few seconds. It gets to the point where she becomes the Elimination Queen, constantly being thrown in by the bitter veterans, and once it's time for the final, she's the dark horse competitor to win it all. If she can squeak by the veteran women for the win, she'll be golden, but this is the first time she's ever done anything as grueling as the challenge. She gets third.
Claire Danes, Homeland — Whenever Danes shows up, everyone in the house expects her to win, so they try their best not to get on her bad side. When Lizzy Caplan attempts to stage a rookie coup and get rid of Danes, Danes makes sure to have Caplan thrown in the elimination round every chance possible. Danes only comes to The Challenge to prove how much better she is than anyone—she doesn't need the cash prize from Chili's or the award.
Michelle Dockery, Downton Abbey — Michelle Dockery doesn't understand why everyone in The Challenge house just can't treat each other respect. This is only a game after all. She's sent home immediately after suffering from a challenge-related injury, and The Challenge goes on without her.
Julianna Margulies, The Good Wife — Danes' natural competition in the house, both for the the win and the men. Margulies and Danes maintain a friendly relationship in front of each other, but in talking heads and to their allies in the game, it's all backstabbing and shade-throwing.
Kerry Washington, Scandal — A top competitor, Washington is at the point where she now coasts on the legacy of her past performances to at least get her to the final. The problem is, other cast members realizes this and eventually gun for her right before she can even make it to the final.
Robin Wright, House of Cards — Much like Edie Falco in the Comedy edition of The Challenge, Robin Wright's veteran status without ever winning the big one screams "Why are you here?" The answer: Because you need someone to stare daggers at the rookies.
Winners, based on the facts: Bryan Cranston and Julianna Margulies.
As you can see, this is clearly the more effective way to determine Emmy winners. You may find yourself saying "This just ends up with the same results the actual Emmy votes would," but clearly you're missing the point. All of these results were based on strong, scientific, hypothetical facts. The Emmy voters don't even watch television. Also, you're never going to see the name Jimmy Coconuts on the Emmy ballot.
[Images via Emmys]
Morning After is a new home for television discussion online, brought to you by Gawker. Follow us at @GawkerMA and read more here.