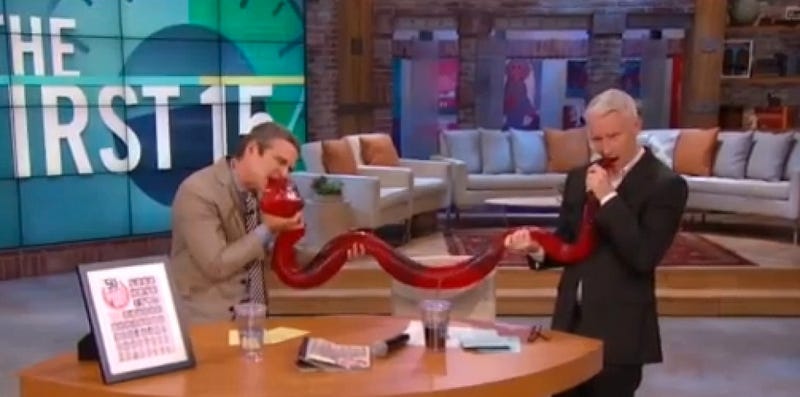 Tonight we've got pet cemeteries, sneaky soccer players, Anderson Cooper and Kelly Ripa, the drunk history of some truly classic American music, and a wife swap you're going to be hearing about tomorrow.
At 8/7c. you've got the best of the Audition rounds on America's Got Talent, an episode of Bad Girls Club on Oxygen entitled "Bad News Brit," presumably about a no-good gal named Brit and not a British person who wanders into that house of horrors, and of course tonight's very exciting Pretty Little Liars, picking up the pieces of last week's honest-to-Ella fantastic bombing. (Why it is fantastic is, it goes back to this time the girls "accidentally" blew up a girl, blinding her, and now—after several smaller explosions and fires in the vicinity—the chick's house has just literally been blown up. Thrilling. She is not that great a girl, I will be honest.)
At 9/8c. you have the risible but loveable Chasing Life on ABC Family—bearing the risible, full-stop, title of "Clear Minds, Full Lives, Can't Eat!"—and if you can't quite handle ABC Family's characteristic harshness there's always the Canadian Realness of Degrassi: The Next Generation on Teen Nick. Finally, the fascinating El Rey network premieres its new drama Matador, which of course is about a futbol star-slash-CIA operative. (Man, and you thought ol' Sydney Bristow had it rough just going to grad school.)
Alternately you have the two-hour Bravo block: Criminally underrated Real Housewives Of New York City, appropriately rated The People's Couch, and a very special Watch What Happens: Live with Anderson Cooper and Kelly Ripa. (Andy Cohen is at his tip-top very best with precisely those two people, so the three of them together is like, something I will be Watching as It Happens: Live.)
At 10/9c. it's all about Comedy Central: First the Drunk History of Johnny Cash and Kris Kristofferson (man in black meets silver-tongued devil!) and then what seems like a particularly crazy Nathan For You as he first advertises for a pet store in a graveyard and then employs a focus group to help a maid service. (I know we lavish Amy Schumer amounts of love on Nathan Fielder of late, but honestly it's just so satisfying to see that show take off. Of all the ventriloquist's dummies who could have gotten the old hocus pocus alamagocus, I'm sure glad it was him.)
Otherwise there's Finding Carter on MTV, which I don't mind telling you I absolutely love; Tyrant, about which lots of very vocal people do not mind doing the same; the premiere of something on a network called FYI called Born To Style—which I mention because this first episode is entitled "Homeless Boy To Rock Star Glam" and that seems highly notable—and then you've got ABC's Celebrity Wife Swap doing, get this, Blossom's Jenna Von Oÿ and Jill Motherfucking Zarin.
Big night! Big night all around. I didn't really think about it until I said it all at once, but... That's some pretty varied entertainment, isn't it? Some bang for your Kabletown buck.
[Image by Bravo]
Morning After is a new home for television discussion online, brought to you by Gawker. What are you watching tonight? What are we missing out on? Recommendations and discussions down below.