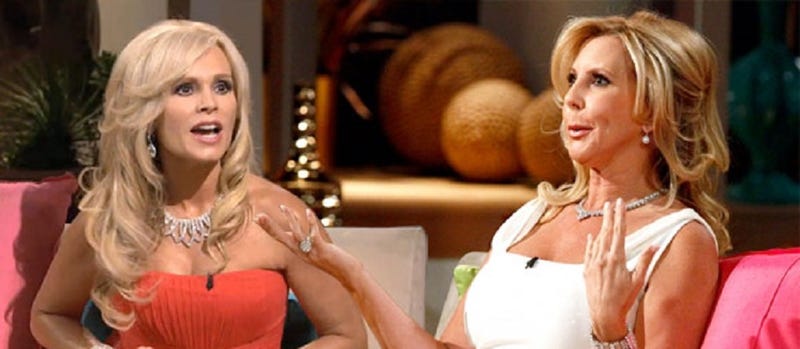 Tonight we've got teens, wolves, teen wolves, Salvador Dali, Jack Bauer dies, and everybody else is still stuck under a dang dome.
At 8/7c., we're nearing the end of Love & Hip Hop Atlanta's third outing on VH1, Masterchef is down to the Top 14, Switched At Birth's eponymous painting this week is Dali's "The Image Disappears," so I'm guessing a deaf lady turns into a giant face on tonight's episode of the very excellent Switched At Birth.
Also the CW begins what seems like a pretty weird night: First, Whose Line Is It Anyway? with Scary Spice (happy 18th birthday, "Wannabe"!), then two fairly obnoxious-seeming new comedies, Backpackers and Seed, premiere. If you're looking for some high-budget bromedies to ruin your Monday, there you go: Eurotrip-open relationships-gay panic BS on the one hand, and semen all over the other.
At 9/8c., Fox wraps up Day Nine of Jack Bauer's fascinating adventures, by cramming together the hours of 10:00 P.M. (Greenwich Mean) to 11:00 A.M. (where we started), turning this 24 into more of a 12. (Or maybe it will just be: A bunch of mean kids lock up Jack Bauer on Venus to keep him from seeing the sun.) American Ninja Warriors heads to Dallas for Finals, The Fosters follows up last week's weirdly advertised, low-key episode with I'm guessing some grim fallout from both Jude's mute turn and Wyatt's sexual patience, and Real Housewives of Orange County has titled its episode "Point Break," which is very promising I think. (Especially since Tamra's heading to WWHL afterward, which means the break is probably literal as well as figurative.)
At 10/9c. there will be available a variety of people under various domes: The usual stupid Dome people, Longmire which may well take place under a dome for all I know, and subsisting under their own kind of domes—their Luftwaffe, their gobbledygoo—you have the ladies of Mistresses and the ladies of Ladies of London. However, you will be watching Teen Wolf, because you are the kind of person who makes solid decisions. Escape the dome!
Then you should go to bed. But if you don't, at 11/10c. Andy will be bringing it on home with two thin-lipped, beautiful harpies: Angela Kinsey from The Office, and Tamra Judge from straight out Whiskey Tango Hell. Watch What Happens as the humorless and abject wine-tosser extraordinaire Tamra tries to explain her robot baby to a couple of tiny jokesters! And then Angela can explain what it was like being pretend-married to a gay man on TV, a subject Tamra knows nothing about whatsoever.
[Image by Bravo]
Morning After is a new home for television discussion online, brought to you by Gawker. What are you watching tonight? What are we missing out on? Recommendations and discussions down below.